Replacing missing teeth is vital for your oral health, comfort, appearance, and confidence. Implant dentistry dentists Drs. Booker, and Higdon offer a wide array of solutions to meet the unique needs of each patient in the Owensboro area. In most cases, the premier option is dental implants.
What Are Dental Implants?
The actual tooth implant does not replace the tooth—it replaces the root. This small titanium cylinder tooth implant is placed in the jawbone in a gentle, predictable surgery. When the bone has healed and stabilized the tooth implant, it is topped with an implant dentistry restoration, such as a beautiful porcelain crown. The dental implants option has several advantages over the alternatives:
An implant-supported restoration looks and feels just like a natural tooth.
The teeth on either side of the gap are not affected (those teeth would need to be reduced and crowned for a fixed bridge).
With regular dental care and diligent oral hygiene, dental implants can last a lifetime.
Dental implants prevent the bone loss that is associated with tooth loss.
Oral hygiene is easy because there is nothing to remove, floss under, or clean around.
Tooth implant supported restorations can be brushed and flossed just like natural teeth.
You can eat what you like and smile with confidence because dental implants are rock-solid.
Are Dental Implants Right for You?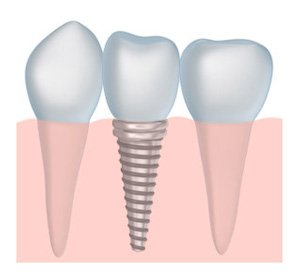 Before recommending implant dentistry, we will review your medical history at our Owensboro office near Philpot and inquire about any health conditions to ensure your safety. Virtually anyone who is healthy enough for an extraction is a good candidate. Although the placement of dental implants is considered an oral surgery, it is minimal and comfortable.
In most cases, the most important consideration regarding implant dentistry is bone mass and density. If your teeth have been missing for some time or you have periodontal disease, you have probably experienced some degree of bone loss. X-rays will be used to determine the amount of bone loss and to plan the position and type of tooth implant. If there is not enough bone for a standard tooth implant, a mini tooth implant may be recommended. When there is not enough bone to support a mini-implant, a bone graft may be necessary.
After your dental implants are placed, you may experience mild soreness for a few days. Although this resolves quickly, it takes time for the bone to finish healing around the tooth implant. When that implant dentistry process is completed (between 8 and 12 weeks), we will invite you back to our office near Philpot and Whitesville for the final implant dentistry restoration. Specially designed dental crowns, dental bridges, or dentures can be supported by dental implants, depending on the situation.
Call Dental Designs of Owensboro for Sturdy Tooth Restorations Today!
If you've lost one or more teeth, call our office to see how dental implants can help restore your smile today. These sturdy restorations can replace your teeth with crowns that feel natural and function just as good or better than your natural teeth did before. Call us today to schedule a consultation with Dr. Booker, or Dr. Higdon.