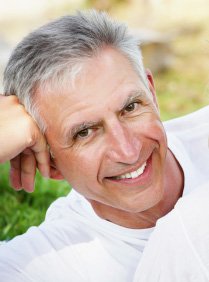 Are you missing teeth and are embarrassed when you smile? Do you avoid going out in public and are only comfortable with your closest friends and family? Are you looking for a solution that will look nice, feel comfortable and give you back your smile?
Our great dentists at Dental Designs of Owensboro have several denture options that we'd like to offer our patients from the Owensboro, Philpot, and surrounding areas. We will partner with you to make the best denture choice for you!
Traditional Denture Treatment
Traditional dentures are still a viable option for many of our patients. We do our best to give you a smile that will work for you—for your lifestyle and your budget. We will discuss this denture choice with you as one option to choose from.
High-End, Custom Denture Treatment
We offer lovely, high-end custom denture treatment that will give you a lovely smile that you will be proud to show. These are an excellent denture option.
Permanent Dentures
Implant-supported dentures are the premier tooth replacement option for patients missing a significant number of teeth.
Schedule a Denture Consultation in Owensboro, KY
If you have one or more missing teeth you might be a candidate for dentures. To schedule a consultation with our doctors simply give us a call, text, or email today!