Tooth Bleaching Services in Owensboro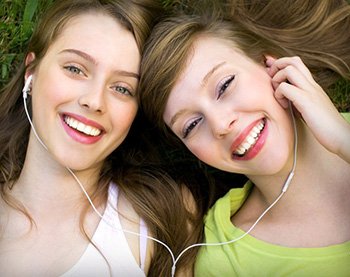 Have you ever seen someone smile and you couldn't believe how white their teeth were? It's like you couldn't stop looking at how bright, white, and beautiful their smile was. Having a lovely, bright, white smile is a real confidence builder and one of our most popular cosmetic dentistry treatments. Dr. Booker, and Dr. Higdon in Owensboro want to give you a beautiful perfect smile and offer you several fabulous teeth whitening systems to whiten teeth.
In-Office Teeth Whitening
Whiter teeth make your smile pop and take years off your appearance. With our Zoom!® Ultimate Power whitening system, it is faster and better than ever. This improved bleaching system uses even more powerful and effective ultraviolet energy. This energy activates the special gel catalyzed by a photo-Fenton reaction of peroxide and dissolved iron. We have found that Zoom teeth whitening is faster and easier, with superior whitening performance and far less sensitivity.
Zoom tooth bleaching to whiten teeth is the most popular option among our patients in Owensboro, because it is quick, convenient, and effective. It only takes about two hours, and most patients see an improvement of seven or eight shades in one appointment! The soft tissues in your mouth are completely protected during the procedure.
When you come into our office, we will prepare your lips and gums for the Zoom teeth whitening treatment to whiten teeth.
Next, the dentist will paint the special Zoom tooth bleaching gel onto your teeth.
The cosmetic dentist then shines a special tooth bleaching light onto your teeth. This tooth bleaching light (laser) activates the tooth whitening gel to whiten teeth.
The dentist repeats this process several times.
In 1–2 hours, your teeth are dramatically whiter.
If you prefer to whiten more gradually, we also offer custom-made take home whitening systems. Just fill the trays with the prescription whitening gel, pop them in your mouth while you are relaxing, and in just a few days, you'll see fantastic results.
At-Home Tooth Bleaching
Our team serving the Philpot area will provide you with custom trays made from impressions of your mouth along with professional tooth bleaching gel. You can whiten your teeth in the comfort of your own home, at your convenience. These trays can be used alone, or following a Zoom in-office treatment for more dramatic results. They are also a great way to touch-up your smile if it starts to darken again.
Teeth Whitening Strips
Some people prefer the convenience of professional strength whitening strips to other teeth whitening options. Strips mainly target the front teeth, which are what are most visible when you smile.
Benefits of Professional Teeth Whitening Services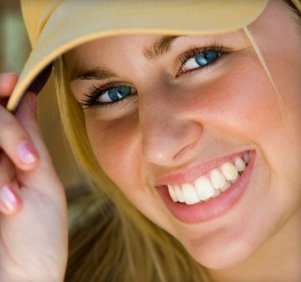 You will also find a number of teeth whitening products at the mall, drugstore, or nearly anywhere else you shop. There are many different brands and types of products with varying degrees of effectiveness. The vast majority of patients who have tried over-the-counter products are disappointed. They prefer professional teeth whitening from Dr. Wes Booker for several reasons:
Professional procedures are reliable and whiten teeth quickly.
You will have the comfort of a dental professional overseeing your treatment to whiten teeth.
Commercially available whitening gels are rarely approved by the FDA, and they often make confusing claims, so you may not know exactly what you are getting.
Professional tooth bleaching gels are stronger than what is sold in stores. Even with the best retail whitener, it will take a very long time of diligent use to achieve satisfactory results. We can give you a brilliant smile in just a couple of hours!
Brighten Your Smile Today at Dental Designs of Owensboro
If you are in Owensboro, Whitesville, or Philpot and tired of hiding your dark, dingy, stained teeth, call and schedule an appointment today to whiten teeth quickly. Let our dental team at Dental Designs of Owensboro give you something to smile about by letting us provide your teeth whitening!