Porcelain Veneers for Teeth in Owensboro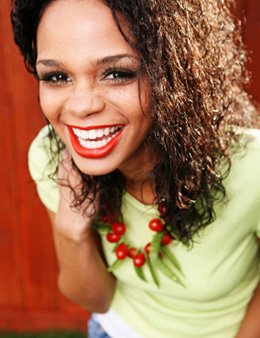 Do you have a lackluster smile and wish you could jazz it up a bit? Do you have a tooth or a few of them that are chipped, broken, misshapen, too small or otherwise not as attractive in your smile that you'd like to change? When your front teeth are disfigured, damaged or discolored, it can cause all kinds of embarrassment and even make you feel socially and professionally limited. We'd like to help with our beautiful dental veneers. Dr. Wes Booker and his team have several cosmetic dentistry treatments at their location in Owensboro that can spruce up your smile. One very popular treatment among our patients in the Philpot area is the dental veneer treatment.
What Is a Dental Veneer?
Veneers for teeth are thin porcelain shells that cover the front and sometimes the edges around your teeth. Though the words thin, porcelain and shells sound fragile, dental veneers for teeth are sturdy and durable.
Porcelain veneers may be used to lengthen worn or short teeth, resurface broken, damaged or discolored teeth and even restore the smile of older patients.
When bonded to tooth structure, certain porcelain tooth veneering materials display similar physical properties as natural enamel. In addition, with the advance of ceramic veneer technology, the layers and translucency of natural teeth can be perfectly mimicked. Because porcelain veneers are among the most conservative of esthetic dental restorations, they offer naturalness, beauty, and strength.
The bond between the dental veneer and the natural tooth is strong and long lasting allowing our patients to feel confident as they eat and laugh, moving through life with renewed confidence in the strength and appearance of their teeth.
What Are the Advantages of Dental Veneer Treatment?
A dental veneer looks completely natural. We customize porcelain veneers so they are the right shade to match the other teeth in your smile.
Porcelain veneers are bonded straight to your existing tooth in a rather simple, quick process. Our Owensboro dentist shaves off the outer layer of your teeth so the porcelain veneer bonds easily to your tooth.
A dental veneer can be used to lighten the shade of your smile if you decide to get veneers for teeth on all the teeth seen in your smile. If you are only have one porcelain veneer placed, it won't stick out like a strange, odd tooth because it will be the color, shape and size of your other teeth.
Because a dental veneer is custom made for you, you can laugh and smile and get your photo snapped with confidence. No one will be able to tell you have veneers for teeth.
A dental veneer doesn't require any special treatment. You brush and floss as usual and see your dentist in the Philpot area for regular check ups. Your porcelain veneers are easy to care for and looks fabulous!
Call Dental Designs of Owensboro for a Brand New Smile in No Time!
A dental veneer may be what the movie stars use to jazz up their smiles, but veneers for teeth are for anyone who wants a prettier, more uniform smile. With your input, Dr. Booker or one of our other talented dentists can custom design your smile. Together, you decide the shape, color, and size of your teeth to create an award-winning smile that looks incredibly natural and feels great.
Call our cosmetic dentistry team serving the Owensboro, Whitesville, and Philpot areas today and let us partner with you to give you the smile of your dreams, for one dental veneer or several porcelain veneers!