We feel truly blessed to have a thriving practice with wonderful patients, who we think of as our extended family. We take great pleasure in giving back to the community that has been so good to us.
The Candy Buy-Back Event
In November of 2007, we proudly sponsored the Halloween Candy Buy-Back event. We encouraged families to take their children trick-or-treating, and enjoy the holiday. After they had two days to sort out their stash and pick out their favorite treasures, we invited them to bring the leftovers to our practice. The candy was weighed, and we paid each child $1.00 for each pound he or she donated. Children also received goodie bags with Firefly Flashing Toothbrushes and other treasures.
The buy-back event collected more than 1,000 pounds of candy, which was donated to our soldiers serving in Iraq. Two soldiers who had recently come home from Iraq participated in the event, sharing stories and photos of their experiences, as well as expressing gratitude for the donations. The event enjoyed a phenomenal turnout, as the young and old came together for patriotism and holiday fun. Everyone who attended had an opportunity to write a note, sign a card, or draw a picture to be sent with the candy. We decorated our office in a festive patriotic Halloween theme, with hand-decorated pumpkins.
Food Drive
We issued a challenge to all other dental practices in the Owensboro area to collect cleaning products, food items, and personal hygiene products for donation to the local Help Office. This office distributes the items to our friends and neighbors who are suffering medical or financial hardships. Our wonderful patients made us proud with their generosity, which made a great success of the Food Drive!
Blood Drive
In October of 2012, we lent a helping, healing hand to The Western Kentucky Regional Blood Center by holding our first annual blood-drive. On this day, we invited every member of our local community to participate in the event, and were so pleased with the support that was received! Thanks to the active involvement of our staff, patients, and various members of our community, this event was a huge success
Smiles for Life
We are proud members of the Crown Council, which is an alliance among progressive dental practitioners who are dedicated advocates for oral health and supporters of their communities. We participate in the Crown Council "Smiles for Life" campaign every year from the beginning of March until the end of June.
During Smiles for Life, we offer at-home teeth whitening kits to new and existing patients at a discount rate. The payment is made directly to the Smiles for Life Foundation, rather than to our office. It is 100 percent tax deductible, because it is considered a donation.
All proceeds collected go to children's charities. Half of the money raised is used to support charitable organizations across the Unites States and Canada. The other half of the money is directed to a local children's charity of our choosing. For the past two years, we have selected the St. Joseph's Peace Mission of Owensboro to be the local beneficiary.
This program is a win-win situation for children across the nation, and local children served by St. Joseph's Peace Mission. Every patient who participates also receives the dual benefits of a brilliant smile at a discounted rate, and the satisfaction of helping kids in need. You can find more information about this great program at www.smilesforlife.org or www.crowncouncil.com.
Making Strides against Breast Cancer Walk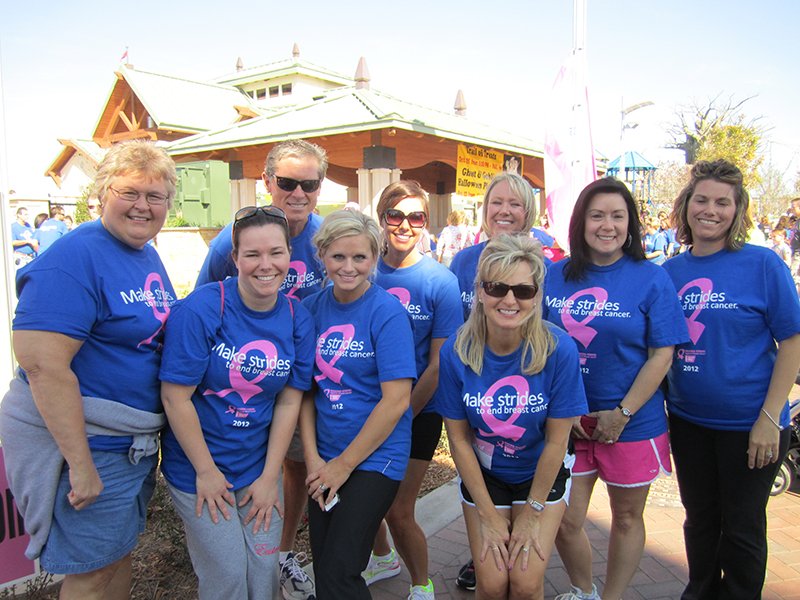 In October, during National Breast Cancer Awareness Month, our Dr. Thompson, Dr. Frey, and staff participated in Owensboro's Annual Making Strides Against Breast Cancer 5K Walk. All proceeds for the walk go towards breast cancer awareness and to fund cancer research. This cause is close to all of our hearts, because breast cancer has touched each of our lives.