Owensboro, KY – October 30, 2019 – What started as a single seed has blossomed throughout the Thompson family tree.
Thompson & Frey Cosmetic & Family Dentistry is excited to announce a new associate, Dr. Katie Higdon, who is one of 14 members of the family who has chosen dentistry as a career. Dr. Hidgon is the niece of Owensboro dentists and partners in life Dr. David Thompson and Dr. Vicki Frey, who have been serving families in the Owensboro area for decades.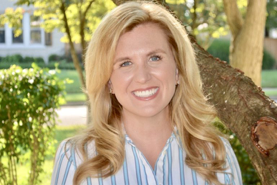 "I look forward to upholding and enriching the family atmosphere in the office that Drs. Thompson and Frey and the rest of the team have so masterfully achieved," Dr. Higdon said.
Dr. Hidgon developed an interest in dentistry at a young age, fostered by being born and raised in a family rich with dental heritage. Dr. Higdon's uncle, Dr. Gary Thompson – who is also Dr. David Thompson's brother, launched a career in dentistry years ago. His dedication to the profession and to bettering the oral health and lives of those he served stood as an example to other family members, many of whom were inspired to choose the dental field as well. 
To date, the Thompson family has 14 dentists, two dental hygienists, and another in undergraduate school who is considering dental school.
Like her uncle and aunt, Dr. David Thompson and Dr. Vicki Frey, Dr. Higdon also earned her dental degree from the University of Kentucky. Dr. Higdon is pleased to return to her hometown of Owensboro, a community she values deeply. She has been practicing dentistry for nine years while also fulfilling her dream of having a family of her own. In 2011, she married her husband Eric, and they welcomed two children into their family. Spending time with her family is definitely her favorite pastime. She also loves cooking, reading, exercising with friends, and being outdoors. She is an active member of her church and enjoys participating in church ministries.
Dr. Higdon's ultimate goal is to provide the highest quality life time dental care in a safe, caring, and comfortable setting. A member of the American Dental Association and Green River Dental Society, she values the importance of staying up-to-date with current guidelines, continuing education, and new technologies. She enjoys working with patients of all ages, but she has a special love for and a wealth of experience treating children. It's her mission to make those early dental experiences as pleasant as possible in order to foster a lifetime of good oral health. She prides herself on being gentle and strives to greet everyone with a warm smile and friendliness.
About Thompson & Frey Cosmetic & Family Dentistry: 
Dr. David Thompson and Dr. Vicki Frey have been serving residents of Owensboro, KY since 1986. They are dedicated to serving the community, and bettering the lives of their friends, family, and neighbors, one smile at a time. No one is a stranger in this office. The doctors and their superb team care about each patient as if that person were a sibling, parent or child. The practice offers cosmetic dentistry, sedation dentistry, family dentistry and Invisalign clear aligners to their neighbors in the Owensboro and Philpot areas. Learn more at /
Contact:
For all media or general inquiries, email  or call Whitney Hubbard, 270-683-0620.
For the press release, please visit 24-7 Press Release